Words can't describe perfectly the emotions I felt last September 29, 2012. I cannot also conclude the whole event through blogging. So let me just share few recaps of the event 'How I met my Zac Efron'. No, I wanna give emphasis on MMMMMMMMMYYYYYYYYYYY! And it will go through pictures and videos so expect a 100000000000 height of a blog post.
Note: Didn't actually take a lot of photos, I just enjoyed the night.
First, I shopped at Penshoppe. Duh? It's a requirement!! Read it here.
Any questions? HERE are the answers. It says there that no cameras and big banners will be allowed inside. But, I'm a law-breaker as well as a die-hard fan so I won't miss this chance to enjoy the night with him and so, I sneaked the camera and the big banners.
2nd, I got my vouchers and exchanged them for tickets!
3rd, Penshoppe made an upgrade to my tickets so I now have 2 Patron tickets and Mama bought a LB ticket to accompany us because you know, it may take until midnight and it did! HAHA! 😛
4th, as I got my tickets, I saw this VERY BIG poster of Zac Efron.
5th, few days before the fan conference, my sister and I decided to make the big banners which were prohibited in MOA.
6th, the main event. We came there 1pm and we strolled in MOA for a few hours because it was quite a peaceful place yet in Arena. Then went back by 3pm and surprisssssssssse!! Lots of people already. We still managed to go quite near from the starting line. Then by 4:30 pm, my sister and I decided to throw our garbage and to our surprise, girls were meeting us half way because they're running after Zac's car. They thought Zac was the person driving it so as it was gone out of their sight, they came back to their lines while my sister and I walked calmly to the car where it parked and we saw a man who's quite like Zac in physical features except for the face because Zac's face is as unique as my fingerprints. lol
7th, time to go inside. IT WAS MORE THAN STAMPEDE FROM THE LINE ITSELF TO THE ENTRANCE OF MOA EVEN IN THE DOORS UNTIL YOU GET TO YOUR OWN SEAT. Guards were useless!! They haven't done anything to control the people.
8th, I managed to seat in letter A 4th line. It was free seating and we can't leave that seat and find for better ones or else, we'll end up standing.
9th, there were lots of performances which made me bored. But hey, my ZACHARY DAVID ALEXANDER EFRON came out of his shell after UP Pep Squad's performance of High School Musical songs which entertained me.
10th, Boy Abunda was already starting the conversation when he ignored Boy and stood up, run in the ramp and throw his leather jacket. The jacket landed just few inches from my place and I got the chance to grab it but I didn't get it because of some stupid girls pushing me like as if they own the world. Plus my sandals were gone from my feet so my tendency was to find for it so my hands were removed from the jacket. Three girls were left and they're almost crying for the jacket. Still, the guards couldn't do anything. Anyway, as I found my sandals, I just concentrated in the interview.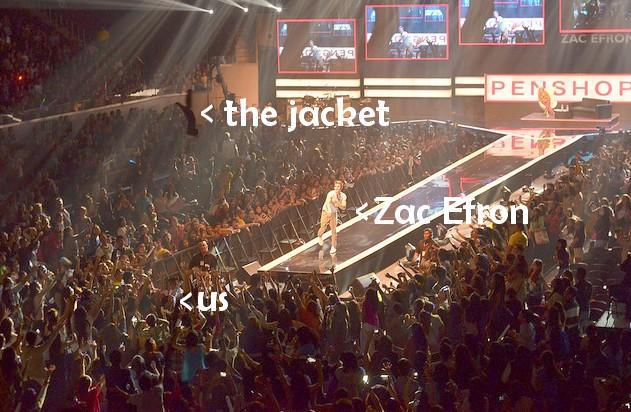 11th, the whole stage. Yeah, it seems far and I don't know who/what to blame but when you're in my seat, it was actually great. It was seriously not as far as you thought it would be.
12th, the part when, for me, Zac's hiding his teary- while the crowd is singing Start of Something New. He talks a lot about Vanessa but Boy Abunda seems to be not a fan. He kept on entering unrelated questions. 🙁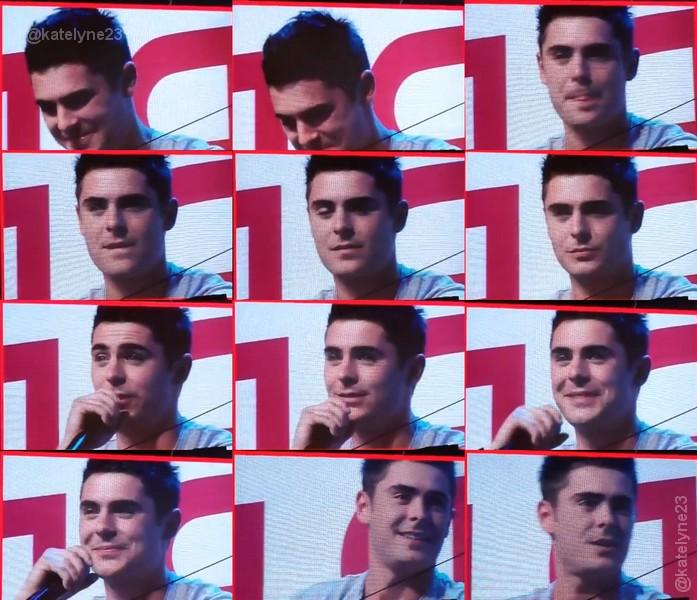 Look at that amusing face of Zac, still while everyone's reminiscing. <3

This was the clearest video where you can see Zac's face. ♥

13th, in a part of the interview.. ZAC ACTUALLY POINTED ON OUR BANNERS that caught the attention of the guards to confiscate our big banners.
14th, Zac Efron saying good bye! :'(
Saddest part was.. I, neither my sister nor my Mama, wasn't picked in the meet and greet raffle. The chosen ones were the people who exchanged their vouchers into tickets immediately. Stupid SM North Edsa's cinema, their printer was broken so I need to wait for one week before my ticket was finally printed. I bought very early, September 3. And I was included in Penshoppe's early birds that's why I got my tickets upgraded.
My sister and I after the event. 😉
There were also Penshoppe posters being given away by someone in the exit but poor me, we exited in different gate and re-entry was prohibited. 🙁 MY SISTER AND I WEREN'T THE LUCKIEST FANS THAT NIGHT. I believe that it wasn't yet the right time for us to meet Zac. But seeing him in flesh was actually a great experience already.