Another review of what you watched? You're probably thinking that. I am so sorry but other than my dogs, watching is the only thing that entertains me as of the moment. And since my life is probably not as interesting as yours, I have nothing to blog about recently but this.
Believe it or not, I like action movies. And right now, I am very much into mystery/thriller/crime/law/suspense – be it a drama or a movie! But since I have finished the Korean drama of Ji Sung, nothing appeals to me anymore. It is that good so I highly recommend it! I've also been kind of impatient recently to finish episodes of dramas so I decided to only watch movies. For as long as the movie falls under the genres I mentioned before and was released after 2010, I watch it. But I am actually having a hard time looking for my cup of tea movies since most of the people I know love romantic comedies (hence, the title of this post) but I rarely enjoy that genre. So if you are someone like me, here is the list of movies I enjoyed but either left me with my mouth hanging open or left me scratching my head.
MASTER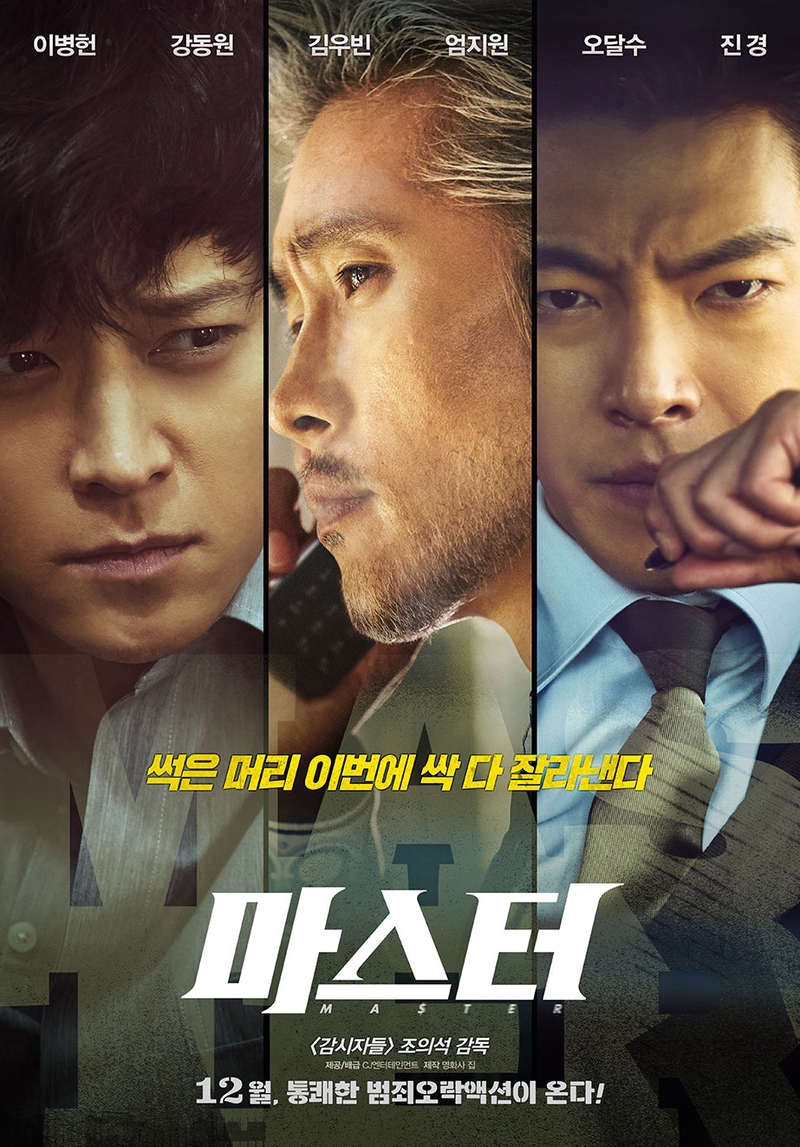 An intellectual crime investigation team goes after company Won Network. The company is involved in a massive fraud case. Kim Jae Myung is the leader of intellectual crime investigation team. He is smart, charismatic, aggressive, and bold to lead the intellectual crime investigation team. President Jin is the president of Won Network. Park Jang Goon is the Section Chief of Won Network. He is the brains behind Won Network.
Last year, one of my favorite Korean actors (and one of the main actors of the movie), Kim Woo Bin, was here in my country to shoot. He was almost not able to return to Korea because he got entangled with the Criminal Investigation Department. And since I like him, I am kind of biased here. 😉 The first part of the movie was in Korea but the second part was mostly shot here in the Philippines. What I like most about the movie was that it was intense the whole time. I enjoyed it so much that I felt the need to watch it twice! That says a lot, doesn't it?
Watch the video below if you want to see how they shot the amazing car scenes here in the Philippines.

TAZZA: THE HIDDEN CARD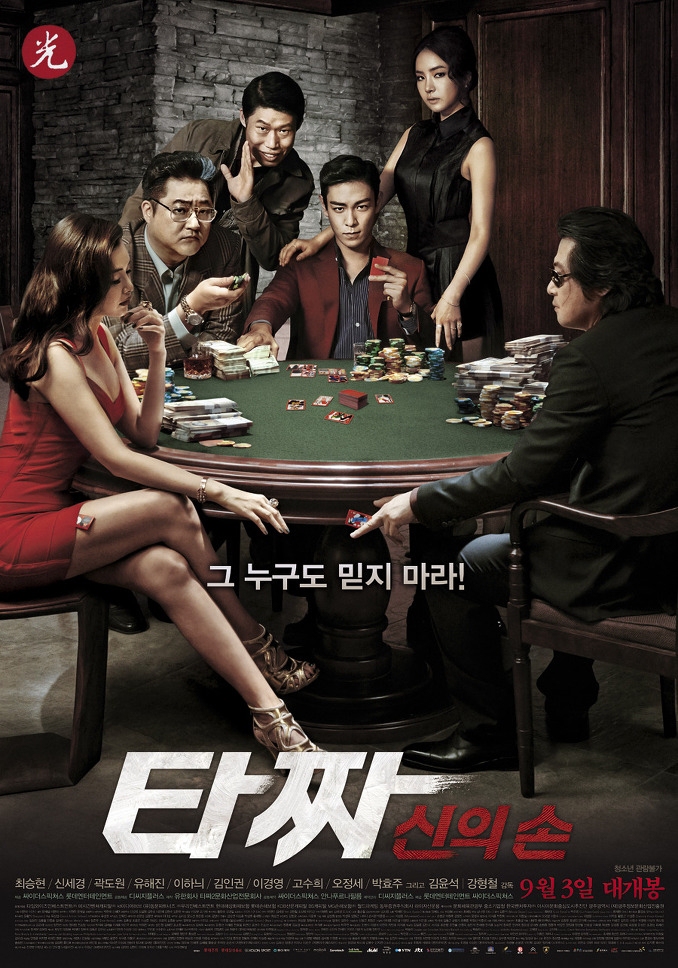 Ham Dae Gil, a young man with natural born talents in gambling, makes a dazzling debut as a gambler and gets reunited with his first love Heo Mi Na. However, Dae Gil soon becomes the scapegoat of betrayal and conspiracy and is forced to be in the run. He plans to get revenge and prepares for one big, fated game for Min Na who has been helping him every step of the way.
It is my first time to watch TOP act. I actually had seconds thoughts before watching this movie because I never liked Shin Se Kyung's acting. But the movie surprised me in so many ways that it kept me on the edge of my seat. I thought it's just going to be about the tricks of gambling but I was not prepared for it mentally and emotionally. This movie will really make you say 'that escalated quickly'. It is also fast paced and my sister actually had a hard time to keep up so you need to be alert to understand the story. I believe you should be above 18 before watching this.
FABRICATED CITY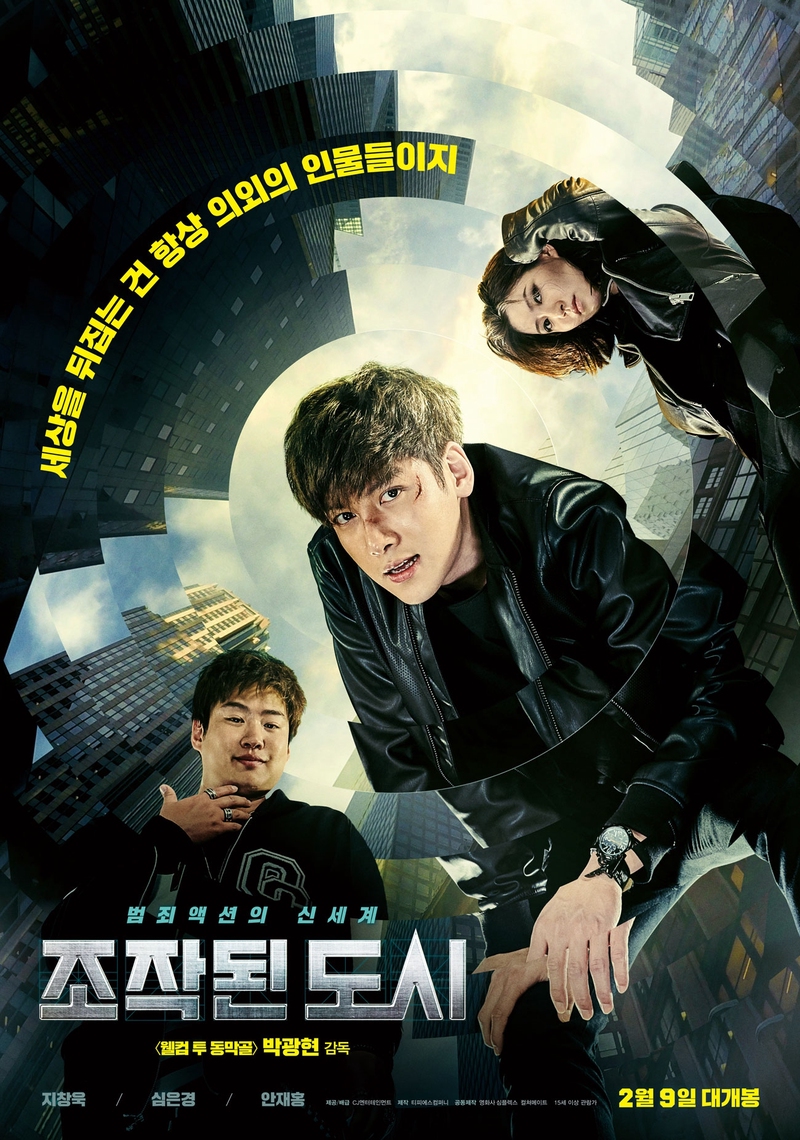 In real life, Kwon Yoo is just an unemployed man who lives day by day by eating cup noodles but in the virtual game world, he is the best leader. Kwon Yoo is then framed for a murder. With the help of hacker Yeo Wool, he tries to uncover the truth behind the murder case.
The premise is really interesting and I love watching Ji Chang Wook. There are a lot of new things here that I have not yet seen before. However, I felt like they could have done better. This movie will also make you say 'that escalated quickly'. The prison scenes are quite disturbing for me too.
PHANTOM DETECTIVE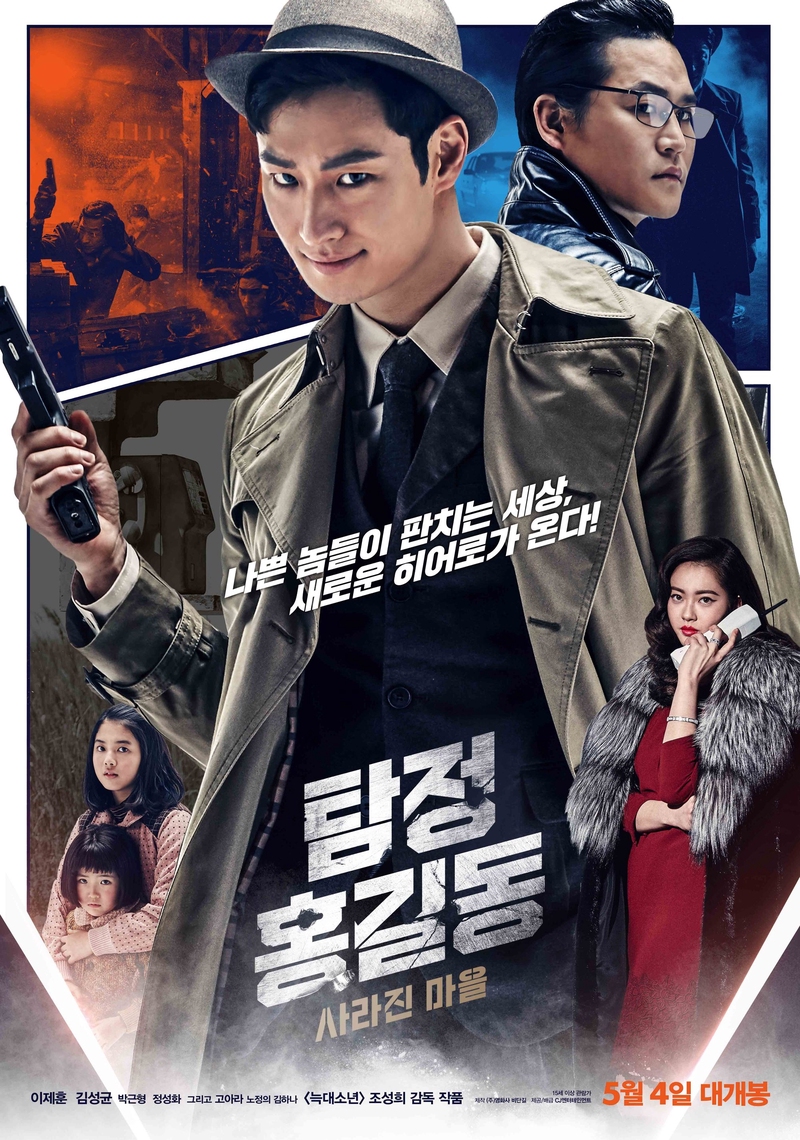 Hong Gil Dong possesses an extraordinary memory and also has an unique personality. He works as a private detective with a 100% success rate. While tracking down the only person he has difficulties in finding, Hong Gil Dong becomes involved in a major case.
The premise does not give justice to the movie. Watch it and you will know why. I actually kind of predicted the story but the execution and cinematography were really fantastic. The movie also had disturbing scenes. BTW, Go Ara is a major turn off for me but I'm glad she only had a few scenes.
THE DIVINE MOVE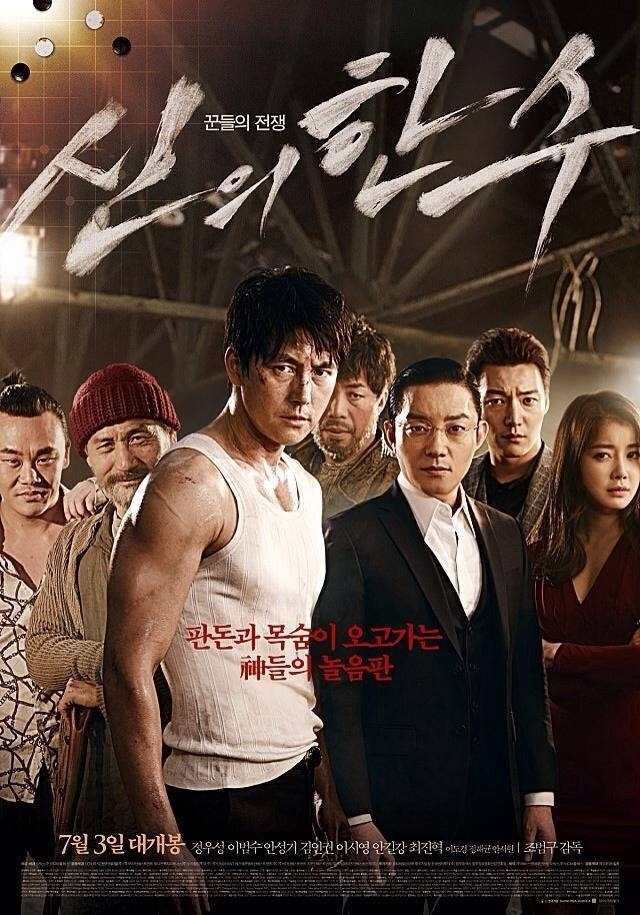 Professional go player Tae-suk loses his brother to infamous underground gambler Salsu after losing a high-stake game. He is framed for the murder of his own brother and is locked up in prison. He vows for a revenge and trains ferociously. After serving his 7-year sentence, he gets in touch with his brother's former associate Kkongsu, hermit and blind master player Jesus, and skillful junkyard owner Mok-su and begins formulating a plan to get back at Salsu and his men. Tae-suk slowly penetrates into Salsu's inner circle and his gambling joint, and eliminates Salsu's men one by one. But Salsu discovers Tae-suk's true identity and engages in one final game that'll seal the fates of 2 men involved.
I watched this because I like Tazza: The Hidden Card so much, I searched for more movies with the same plot. The story is very direct to the point and there is no plot twist. Among the movies listed here, this one has the goriest scenes but the fight sequences are fantastic. The actors are all famous too so I wonder how they were able to cast them.
A VIOLENT PROSECUTOR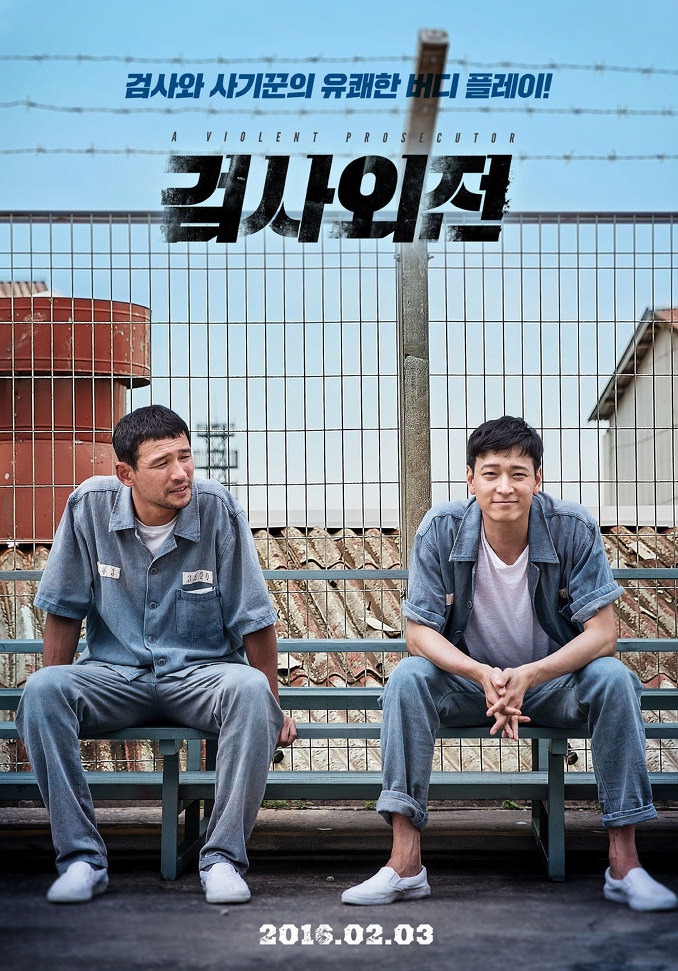 Byun Jae-wook is a short-tempered prosecutor with a propensity for violence, famous for his tough investigations and who only pursues the truth. When a suspect under his interrogation is found dead, Jae-Wook is arrested, falsely accused of murder and imprisoned for 15 years . While in jail, he plans out his revenge mission and finds the most talented criminals in the ward to help him out. Five years later, Byun Jae-Wook meets good-looking, brilliant con artist and schemer Chi-Won in prison. Feeling he could carry out his plan outside of prison, Jae-Wook gets Chi-Won acquitted, using his knowledge as a former prosecutor. Byun Jae-Wook's ragtag team of ex-cons will now enact a revenge plan against the organization that framed him.
This 2017, I saw this movie showing in the theaters. Another fact about me is that I watch movies in theaters almost every week. I guess you can say I am obsessed with silver screen. But this particular movie caught my attention because as far as I remember, the only time I watched a movie in theaters with a subtitle was when I saw Train to Busan with my friend. I ended up not watching this in theaters because I realized that this was released last year so I guess the online world already has a copy of this somewhere. This movie is really funny mainly because of Kang Dong Won. The guy can act! His character here is almost the total opposite of his character in Master. But the movie actually kind of failed me because the ending was too good to be true! Nevertheless, here is a treat for you.
HIDE AND SEEK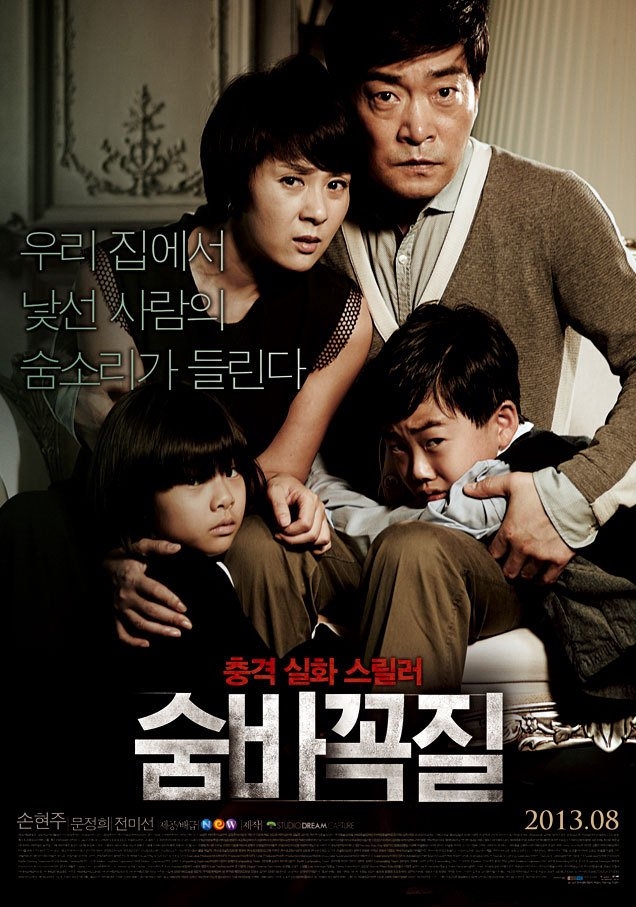 Seong Soo, a successful businessman who lives with the perfect family in a luxury apartment, has secrets and mysophobia about his one and only brother. One day, he goes to see his brother after a phone call about him missing and sees weird symbols all over the house and he meets Joo Hee who knows his brother. "Please tell him to stop looking at my daughter". Joo Hee lives alone with her daughter but lives in fear of someone watching them. Seong Soo looks around carefully at the old apartment and realizes the symbols mean gender and numbers of people. "Someone else is living in my apartment with me!". Seong-soo returns to his from his brother's and notices a familiar symbol written next to the bell of his house. A missing brother. Hide and seeks codes. A shocking truth for two different families and the struggle to save their families starts now.
This is not a horror movie but still, watching this alone in the middle of the night is not a good idea. But the movie was nice that I felt the need to watch its Chinese version too. So if you like action and thriller with a plot twist, this one is for you!
Overall, I recommend these movies! I am hoping to make more people enjoy the genres I love.